Patient-Specific Orthotics: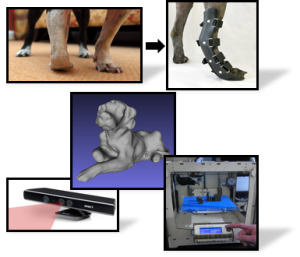 Thousands of dogs require orthotic devices to support limbs and allow healing following injury. However, dogs come in many shapes and sizes and cannot always be effectively fitted with "small," "medium," or "large" orthotics. Patient-specific devices provide a better fit for improved healing, but take weeks to manufacture. 
By combining 3D scanning and 3D printing techniques, we are developing methods to create patient-specific orthotic devices in a few hours, at a fraction of the cost of current manufacturing techniques.